Lost Pub Competition
If you could bring back any Lost Pub of Leeds, what pub would you choose?
Compass Live Art, in partnership with Leeds Civic Trust invite you to vote for the Lost Pub of Leeds that you would most like to resurrect. The winning pub will be featured in Public House: The Yorkshire Square.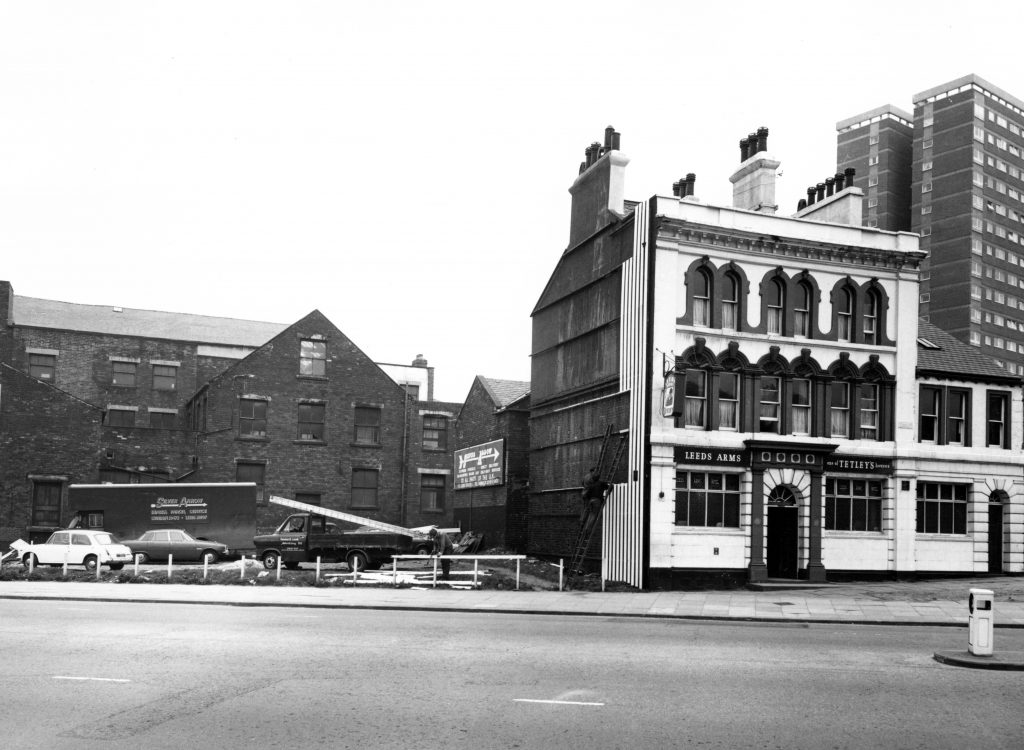 PUBLIC HOUSE: THE YORKSHIRE SQUARE
During Compass Festival 2021, Public House: The Yorkshire Square is coming to Leeds Kirkgate Market.
Modelled on the dimensions of the unique fermenting vessel made famous by Tetley's Brewery, The Yorkshire Square has been reimagined by artists Katie Etheridge & Simon Persighetti as a four-sided Pop-up-Pub serving brews and views from across Leeds.
Exploring the idea that the Pub of the future has many faces, each side of The Yorkshire Square will present a different bar offering multiple ways to explore the past, present and future of Leeds pubs. You can help name one of these bars by voting for your favourite Lost Pub!
Everyone who votes for the winning pub will be invited to contribute memories of the pub to the Public House project. Six contributors will be selected at random and invited to the opening of The Yorkshire Square.
WHAT IS A 'LOST PUB'?
Nearly a quarter of pubs in the UK have closed since 2008, and the future of many more now hangs critically in the balance. The unprecedented mass closure of the UK's already endangered pubs during 2020's lockdown, has highlighted both the fragility and the importance of the Public House in our lives and communities.
Your lost pub may have closed recently or many years ago. It may be standing empty, waiting for a new lease of life, or it may have been lost for good – demolished or turned into flats.
Whether it's your much missed former local, a lost architectural gem, or a pub that has just always been there for you, until one day it isn't, tell us WHY this pub is important to you, and why you would like to see it resurrected.
"Pubs conjure such vivid images, memories and shared stories in our cultural imaginations. Leeds Civic Trust, as a champion of local heritage and history, is only too aware of the impact the loss of a pub can have on the community.
We are delighted to be a part of the Public House project and to see which pub the people of Leeds chooses. It isn't last orders yet for the pub, and we look forward to raising a glass at The Yorkshire Square!"
You can nominate any pub with an "LS" postcode or vote for a pub that has already been nominated.
The Yorkshire Square's 4th bar will be named after the Lost Pub with the most votes.
Since 2017 Katie Etheridge and Simon Persighetti (Small Acts) have been working with Leeds brewers, publicans, campaigners and individuals to explore the future of social landscapes by investigating the enduring role of Pubs as places of community, intergenerational exchange, entertainment, (hi)story telling and activism.
To cast your vote,
please nominate a Lost Pub
or select a pub below: