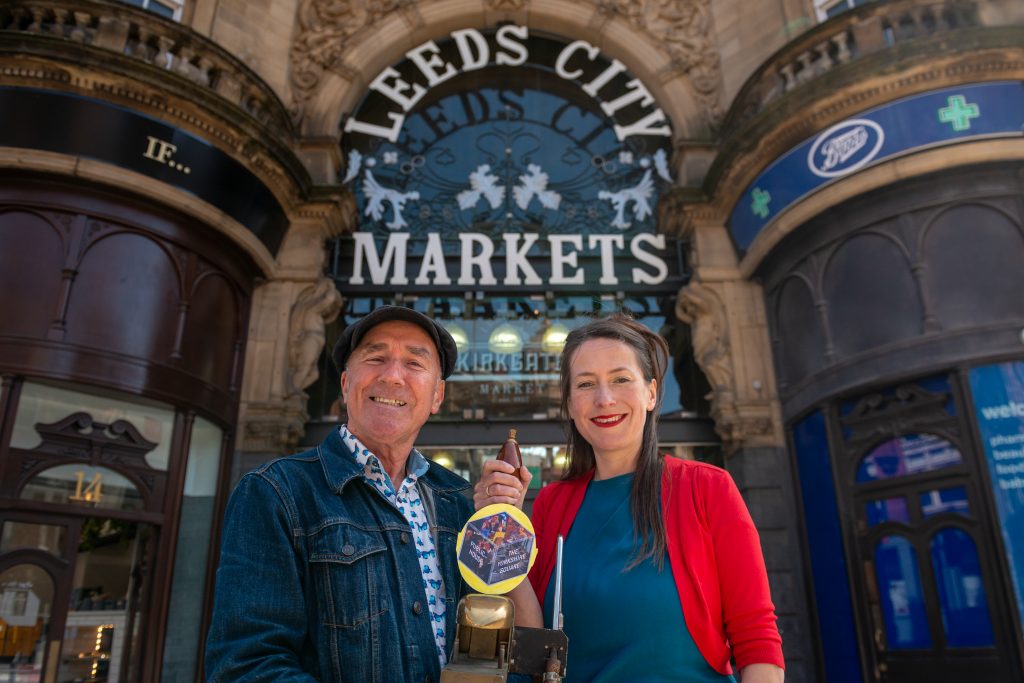 What is it?
A four sided structure in the street food area of Kirkgate Market.
Two of the sides are working bars, where you can buy drinks and snacks.
The other two sides host interactive artworks and are the meeting place for a programme of tours and talks.
How will I find it?
The Yorkshire Square will be located in front of the butchers, Malcom Michaels and run parallel to the stage area in the Food Hall.
There is step free access from street level.
There are tables and chairs provided and you will not be asked to enter the installation.
A public toilet located one min walk away from the installation.
Parking and public transport connections are detailed on the markets website: https://www.leeds.gov.uk/leedsmarkets
The market is a bustling space and there will be elements of pre recorded sound in the installation, captions are provided on all videos.
We have friendly stewards available to assist you should you need any guidance.
What if I don't drink?
There is no pressure to buy a drink at The Yorkshire Square, you can simply come for a conversation and to experience the installation.
We will provide a selection of soft drinks and you are welcome to bring your food from other market stalls over should you wish to.
How are you going to keep it Covid safe?
OUR COVID-19 RESPONSE:
All Public House staff are fully trained on our Covid-19 operations and procedures
All staff and crew are regularly lateral flow testing before entering the site.
Pre-booked tables to ensure that different groups are kept separate and that all tables are 2m apart from each other
Hand sanitizer will be available throughout the site.
We're a cashless venue, so you'll be able to pay with contactless, Apple Pay, Google Pay, CHIP and PIN etc.
Thorough cleaning of every table, and our bars using our strict hygiene procedures, once a group leaves to ensure the table is safe and ready for the next group
All serving staff will be wearing face coverings and will practice regular handwashing.Public House is well ventilated for everybody's safety.
We are a seated venue and will be operating table service for drinks throughout your stay.
Our booking system will record track and trace and will be stored for 21 days in accordance with the guidance. Details may be shared with the NHS, if required.