In July 2021 Public House: The Yorkshire Square attracted over 1500 visitors to its 9 day programme of tap talks, conversations, walks, screenings, live music, and interactive pub quiz.
Many 100's more enjoyed the spectacle of this unique pop-up-pub appearing in the middle of Kirkgate Market, or simply popped in for a pint and a chat. This ferment of connections, conversations and experiences was mediated through four different 'bars', including two fully operational pubs serving beer from local breweries.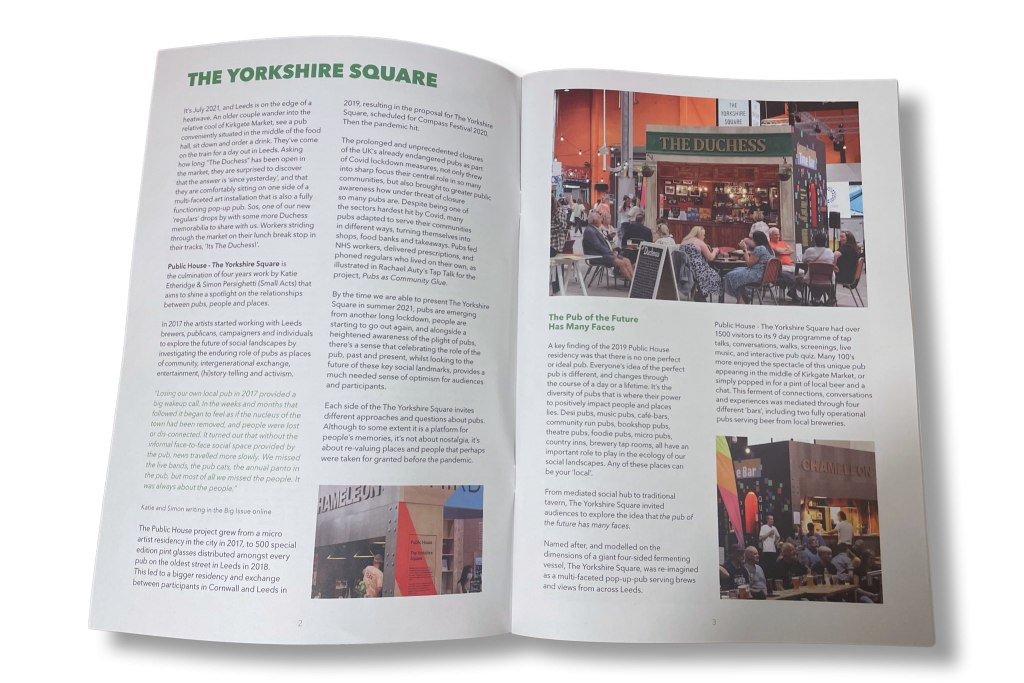 The Yorkshire Square was the culmination of four years work by Katie Etheridge & Simon Persighetti (Small Acts) that aimed to shine a spotlight on the relationships between pubs, people and places. In 2017 the artists started working with Leeds brewers, publicans, campaigners and individuals to explore the future of social landscapes by investigating the enduring role of pubs as places of community, intergenerational exchange, entertainment, (hi)story-telling and activism.
This legacy Pub-lication has been written and created by Katie and Simon to share the project beyond its original live manifestation. Public House is documented through beautiful photographs, writing, reflections, archive material and extracts of transcripts from participant interviews. Showcasing Small Acts dynamic approach to socially engaged art, the publication also signposts readers to ways in which they can support pubs and save their local.