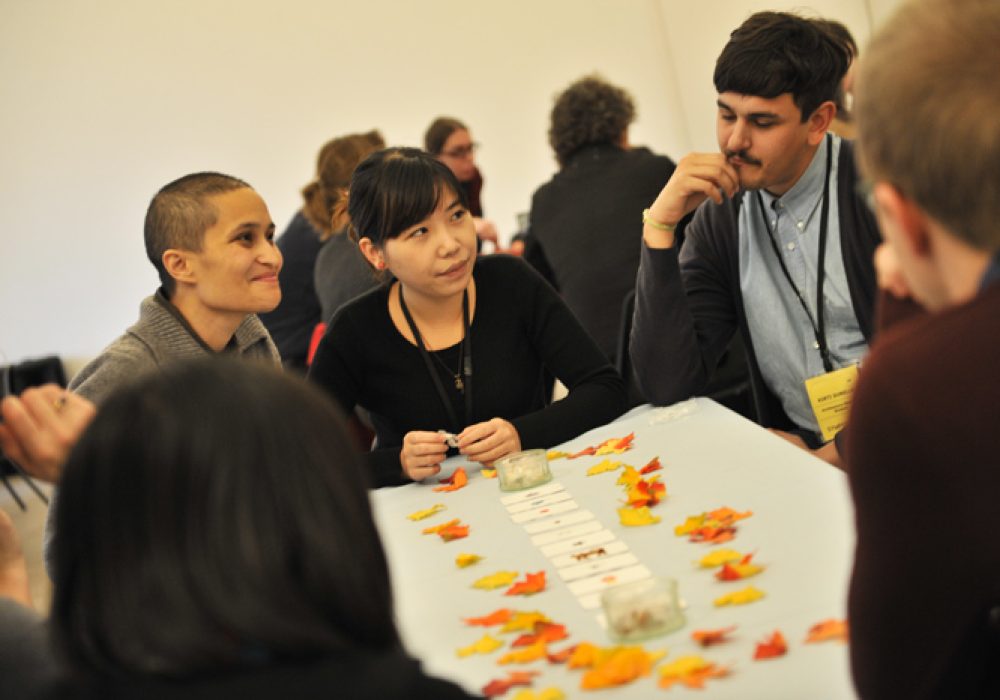 25/11/2011 – 27/11/2011
Various locations
Across Leeds
Compass Symposium took place on the weekend of 25-27 Nov, in Leeds. It was built around a series of engaging and stimulating discursive Workshop-Discussions on the core themes of live art in the public realm and live art as socially engaged practice, and was directed and managed by Sarah Spanton.
View a full report on the Symposium here.
Delegate responses
The content was very valuable & as it has prompted me to begin asking questions + provoked more action + doing in my practice.
The content was very interesting, very social, very politically engaged.
The symposium may impact in a number of ways… It prompted me to reassess my assumptions about what working in the public realm means and also why we do it. It encouraged me to look at social space from a more activist rather than passive point of view.
Symposium Programme
At its heart were a series of Workshop-Discussions linked to the core themes, accompanied by an additional complementary programme of activities. The Symposium ran alongside the Compass Festival of Live Art, where their schedules were interlinked. Symposium events were hosted by 2 partner venues; Carriageworks Theatre (in Millennium Square) and East Street Arts Patrick Studios (off Mabgate). It drew around 100 participants from across a range of disciplines together from across the country; from fine art, performance, architecture and geography backgrounds. The delegates were practitioners, programmers, curators, producers, academics, arts professionals and postgraduate students.
4 Workshop-Discussions was collaboratively developed by Spanton and a partnership of Guest Contributors who weren't previously known to each other. They brought a deep knowledge of their own specialism to the collaborations – facilitating engaging unique one-off spaces for participatory dialogue around the themes. Each Workshop-Discussion was held twice over the weekend with different delegates taking part each time.
Intentions & Un-intentions – Wunderbar Festival Director Ilana Mitchell & Architect Carolyn Butterworth
Intimacy and Generosity – Practitioners Renny O'Shea and Richard Gregory of Quarantine Theatre, practitioner Rajni Shah & academic Rachel Zerihan
Politics of Access – Practitioner Charlie Fox, practitioner and academic Christian Nold & executive producer of IOU Theatre Richard Sobey
Sensing the City – Public realm producer/curator Sue Ball, geographer Bradley L. Garrett & practitioner Bob Levene
The Symposium took place within the context of the Compass Live Art Programme developed and managed by Compass Consortium; Karen Watson (East Street Arts), Annie Lloyd and Sarah Spanton/Waymarking.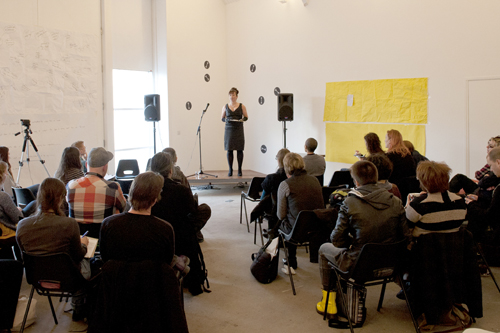 Timetable:
Delegate Show and Tell
Fri 25 Nov 4-6pm &
Sun 27 Nov 10.30am-12.30 pm
Taking inspiration from the PechaKucha format of presenting a Powerpoint with 20 images, and speaking for 20 seconds about each one, we're inviting delegates to make a presentation on a past project, a future project, your research, your ideas. This could be just the way to quickly help other delegates get to know you and to make connections beyond the Symposium.
Compass Associates Debate
Fri 25 Nov 1-3pm
The Compass Consortium has been leading a series of discussions with the live art sector in the Yorkshire region. This is a discussion session led by OUI Performance and Victoria Firth, director of Lawrence Batley Theatre on issues around touring live art.
Symposium Assembly
Sat 26 Nov 12.30 – 1.30pm
Gathering all 100 delegates and guest contributors together, for welcome speeches and buffet.
Compass Festival Break
Sat 26 Nov 1.30 – 4.30pm
Saturday afternoon has been left un-programmed to ensure that delegates can see and take part in the Festival programme.
Bohmian Dialogue by New Work Network
Sat 26 Nov 4-6.30pm
An introduction to Bohmian Dialogue, facilitated by Hester Reeve in association with New Work Network. This session will include a presentation on its roots followed by a dialogue, introducing participants to the unique possibilities that Bohmian Dialogue offers in terms of considering our relationship to thought, creativity and processes.
Symposium Plenary
Sun 27 Nov 1-3pm
Collecting all delegates together for a final round up of the Symposium – collating all our thoughts on the Symposium – led by Sarah Spanton and Gillian Dyson. An overall round up from each Workshop/Discussion workshop will take place alongside outcomes from the Festival.
New Work Yorkshire Fanzine Launch
New Work Yorkshire launches its second issue of 'I stood up and I said yeah!' – edited by Jean McEwan. This issue is on the theme of Provocation.
Auditeur in residence
Gillian Dyson will taking on the role of witness, reporter, stenographer and pathfinder throughout the Symposium, making a presentation in the final plenary. An online publication will follow the Symposium.
Publication and Resource Point
Bring publications, leaflets, business cards, project info, research papers along – for other delegates to take away.
Compass Social Hub
Compass has arranged a dedicted meeting point at a city centre pub/bar. Gather in the evenings, in between the festival programme at the Social Hub.