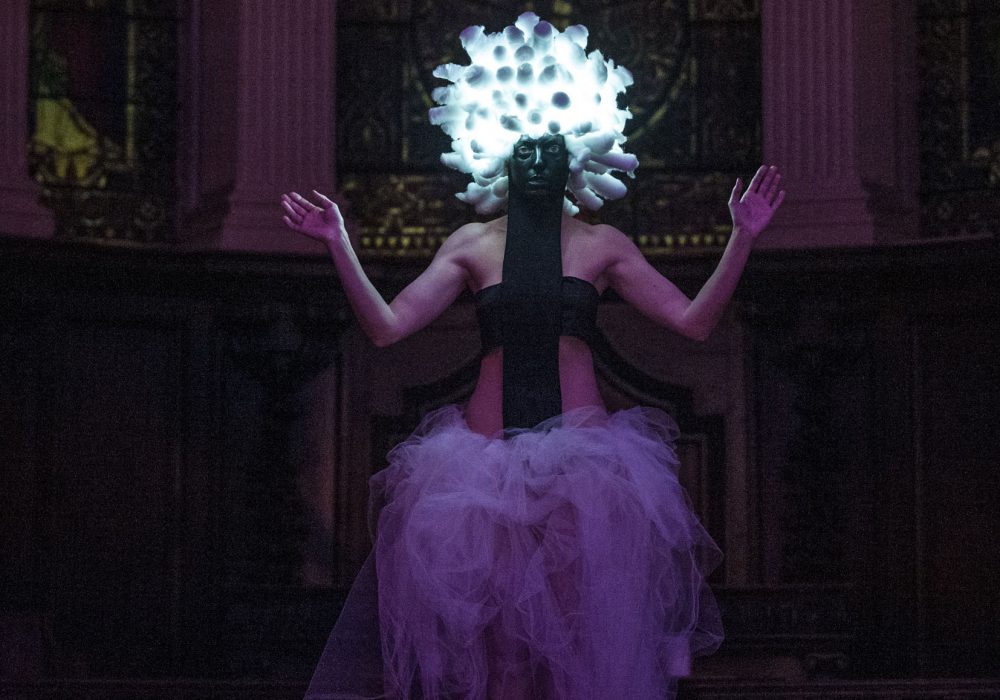 Live Art Bistro Takeover
21/11/2014 – 21/11/2014
8pm–11pm
Holy Trinity Church
Boar Lane, LS1 6HW
During the summer of 2012, Adam Young and Live Art Bistro took over an empty club near Kirkgate in central Leeds, turning it into a popular and treasured temporary venue for performance, music and parties. Since then, LAB has been continuously active in supporting local artists through a series of pop up events and an ongoing residency at Enjoy Arts Space.
For one night only, Live Art Bistro descended on Holy Trinity Church with a platform of captivating and disruptive new work from emerging artists based in the North of England. It was an informal and open space where audiences were free to relax, have a drink and encounter performances in their own way.
PROGRAMME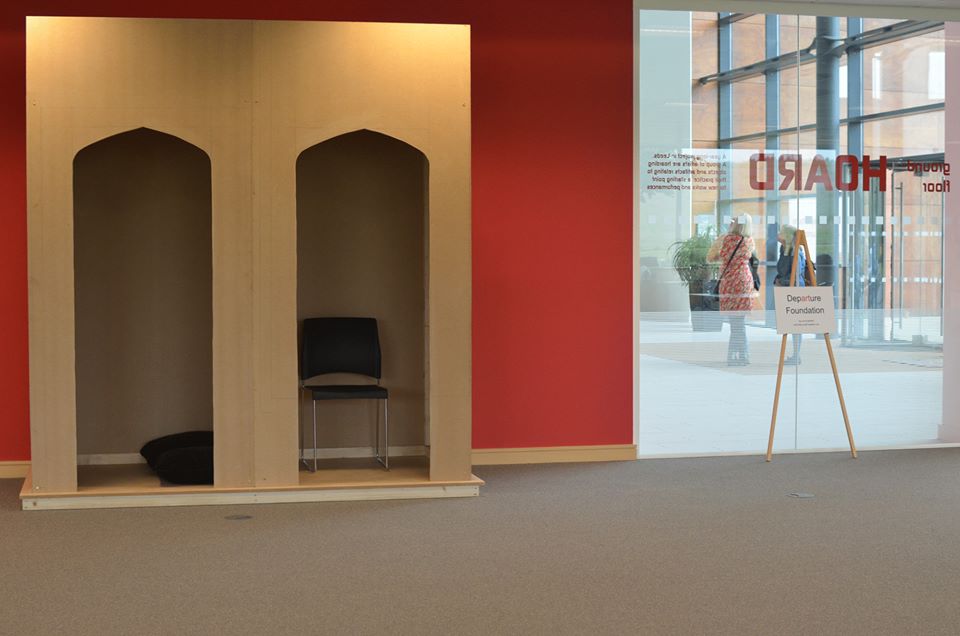 Confessional Booth
Confessional Booth is a playful and non-judgmental space created by Adam Young and in development with Anton Krasauskas. A space to let go and admit to all of your artistic sins: maybe your 'not getting it' or you just committed a huge social faux pas at a key Compass performance and need someone to confide in. All interactions will be completely confidential.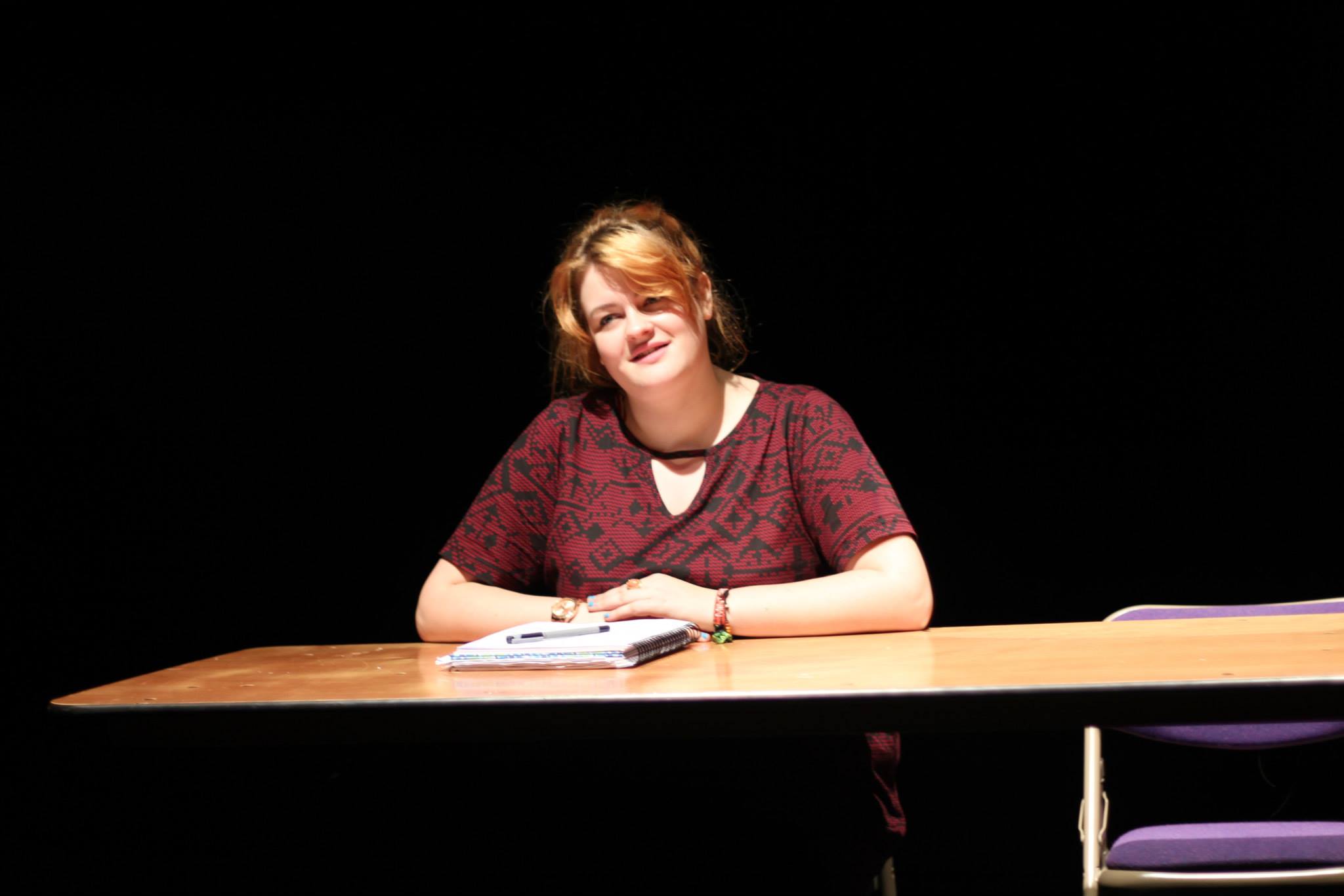 Trina Higgins – Meet Me
Friendships can be formed in such a short period of time. Love me. Hate me. Play with me. Dismiss me. Bare with me. Rush me. Need me. Despise me. Just meet me.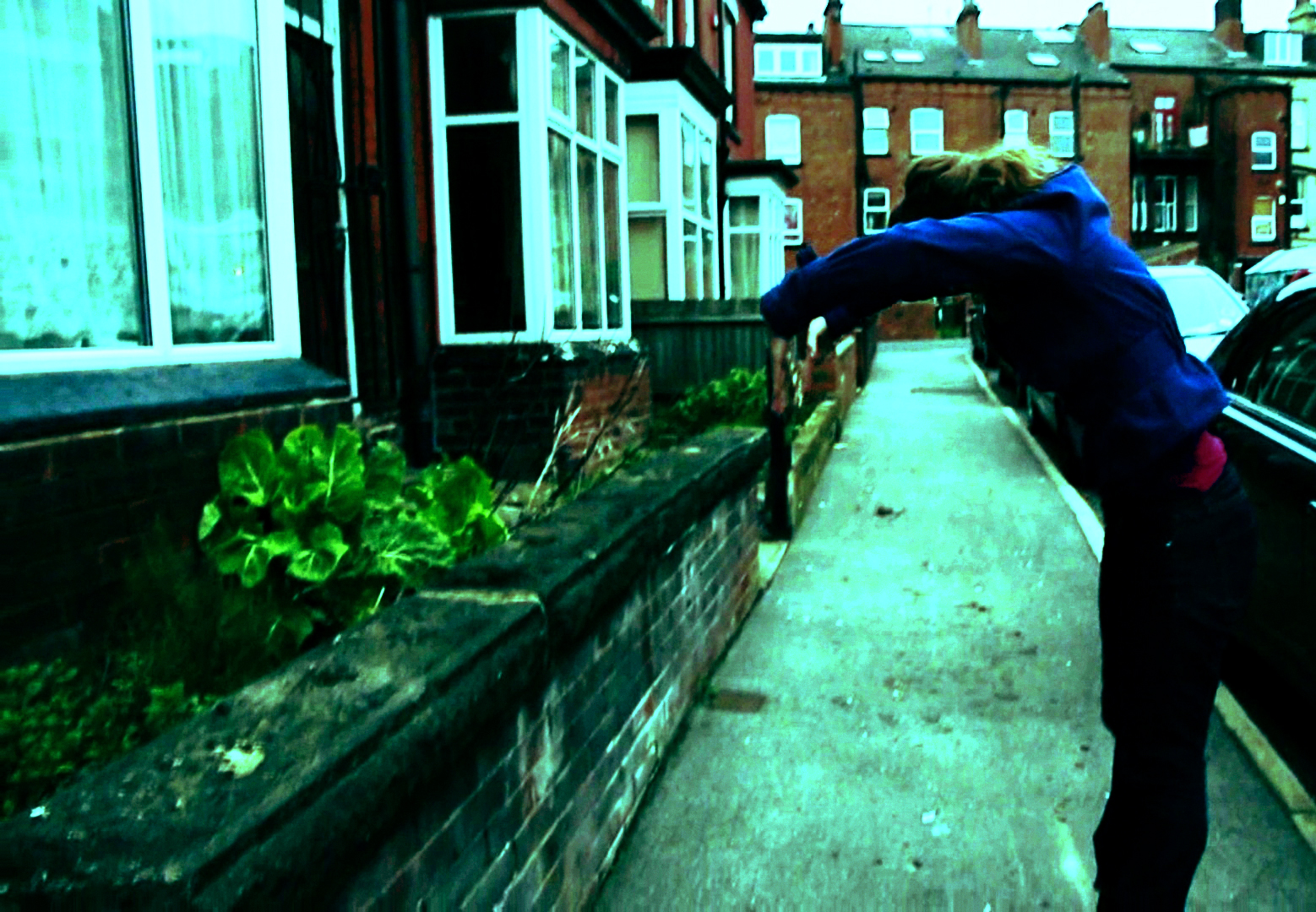 Katharina Arnold – Embrace
Katharina Arnold is a performer, dancer and choreographer whose work is mostly interdisciplinary. She invites you into her onto-to-one piece, "Embrace".
"Come closer.

I have a present for you.

It is specially tailored for you.

I gave a lot of thought to it.

I hope you like it.

I really do."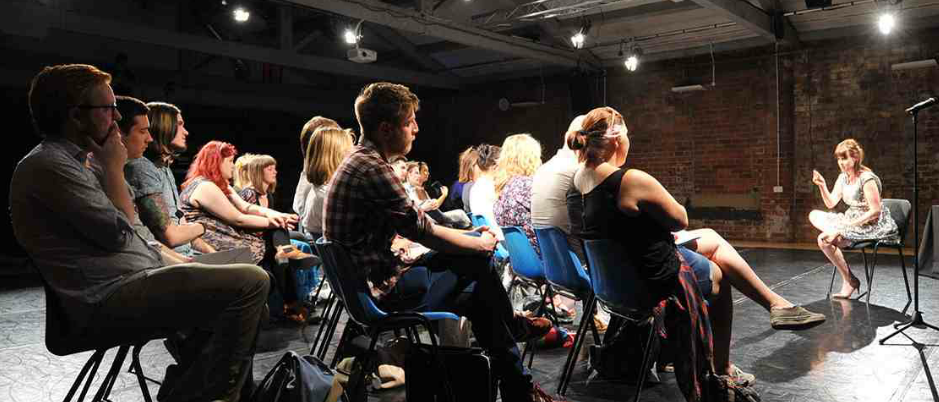 Joely Fielding – You're the one for me, fatty
Joely's mum believes, "you should go on ten dates a year in order to find a partner."
With December looming, and a tally of 0 out of 10, Joely is thinking she needs to re-think her pulling tactics.
If you have been on none, many or any date this year, come and date Joely this evening so she can get practising. Together, you will impress her mum and stop single Joely from listening to too much Morrissey!
Becki Griffiths – Come sit with me
Come, sit with me.
Let us take it in. Let us give time and space to what we have and indeed what we don't. Let us breathe together. Let us think about what has come before. Let us be.
Come and sit with the artist. Every experience is different and dependent on who sits, how they sit and what they bring to the table.
Becki Griffiths is an artist concerned with the ephemerality of performance whilst considering the role of documentation. Her work is autobiographical dealing with mental health issues, gender, class and race. She is a founding member of Leeds-based live art company, Indivisible.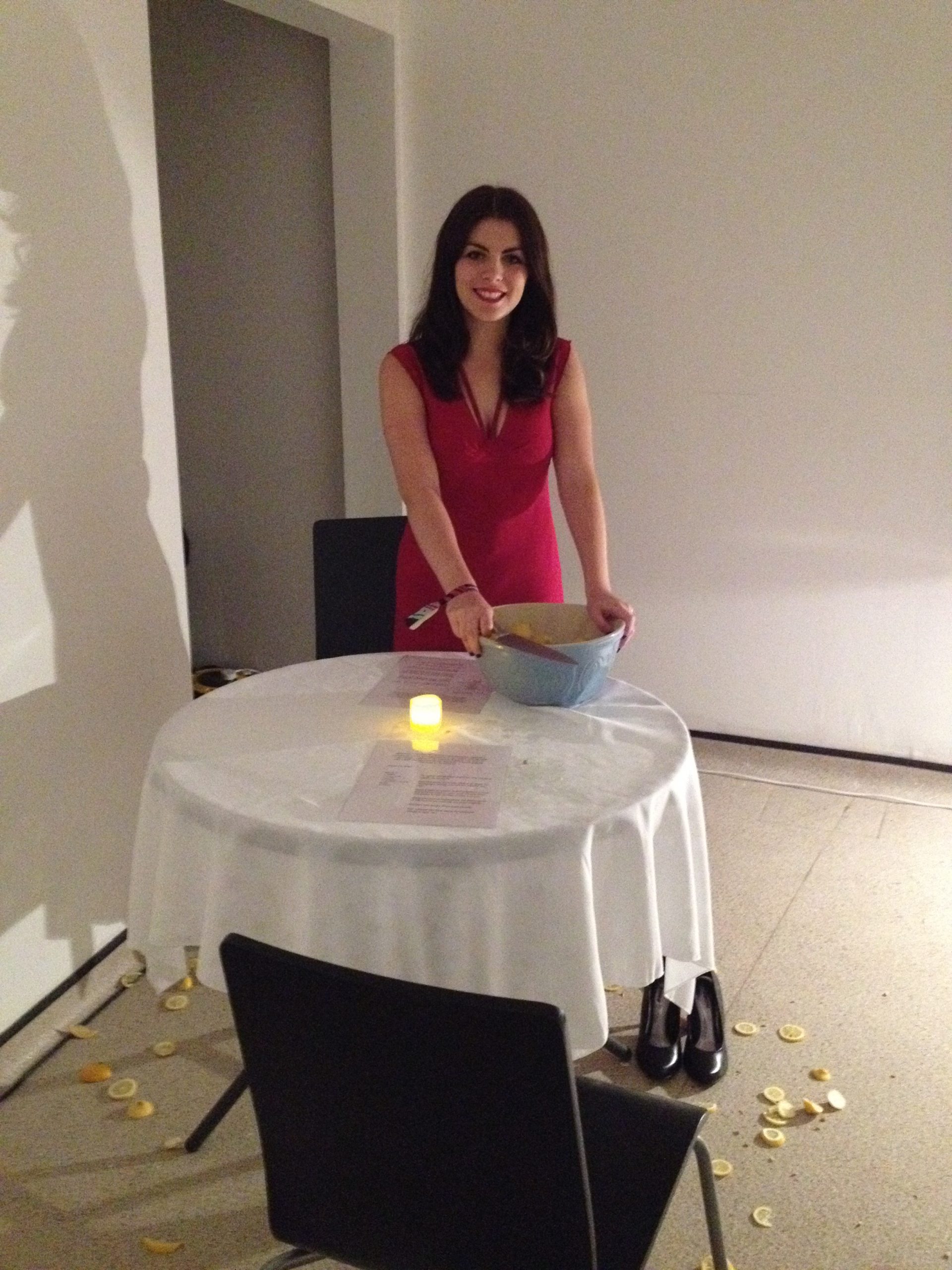 Anna Parker – At a London Resturant
This is a one-to-one experience exploring the idea of the idealistic 'Domestic Goddess' commenting on whether or not this ideal is at all realistic or simply just a shallow image covering home truths.
The performance is influenced specifically by the image of Nigella Lawson who has been perceived as the definition of a 'Domestic Goddess' over many years, however this piece comments on how this may have been shattered by the media and her family life this past year.
Anna Parker is a Contemporary Theatre and Performance student at UCLAN in her final year. She works with mainly visual and physical performance and devised this piece during her second year. Although not yet graduated, it is Anna's intention to make work to a professional standard and gain experience in performing in the professional field.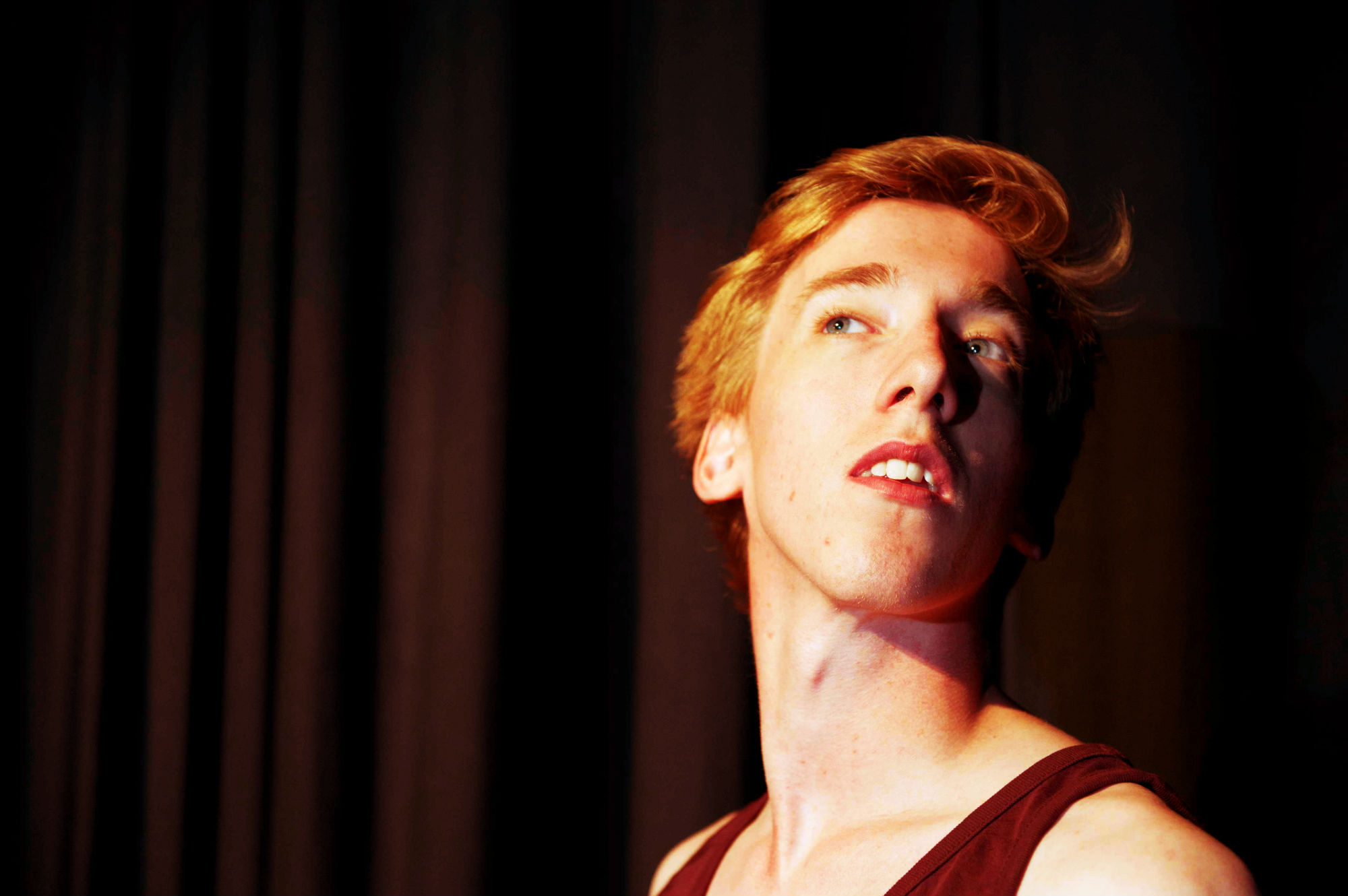 Dan Craddock – One Man Cabaret
One performer gathers and expects an audience for his grand show of variety acts. Several songs, poems, famous speeches, dances and general superstardom are prepared. He stands atop a small podium, the surrounding scenery decorated as a shrine to his own prowess. The only thing stopping him from taking the world by storm is the audience leaving. A one hour act of warming up, one-to-one moments of intimate collaboration and pure egotism – on one side the spectacular artist, on the other the appreciative member of the public. He'd like it if you sat in the special chair.
Dan Craddock is a contemporary theatre maker based in Leeds, West Yorkshire. Having just completed his Masters in performance, his practice primarily focuses on the physical body and the multiplicities of self and has been likened in style to artists such as New Art Club and Ideas Men. Over the past few years he has performed nationally and internationally at places such as Arts Admin, Sibiu Theatre Festival (2014), Escrita Na Paisagem (2012 + 2013), West Yorkshire Playhouse and Beacons Festival (2014).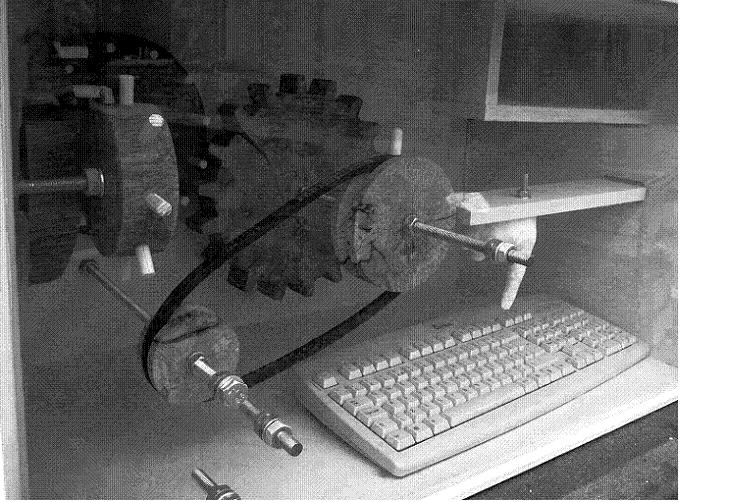 Emily Towler – Gender Binary Enforcement Machine
Emily's work takes a tongue-in-cheek look at issues of identity and place using sculpture, drawing and performance, with particular interest in deconstructing notions of gender, sexuality, class and heritage. The Gender Binary Enforcement Machine is an absurd parody of the way that language is used to inscribe notions of masculinity/femininity to the human body, and the limitations this places on freedom of expression. Audience members are invited to contribute their own experiences of restrictions placed on them by outdated notions of learning to perform and exist within a restricted space of woman/man/girl/boy, which will be used to influence the performance and to create a lasting sculptural object documenting a wide range of feelings and experiences of the gender binary.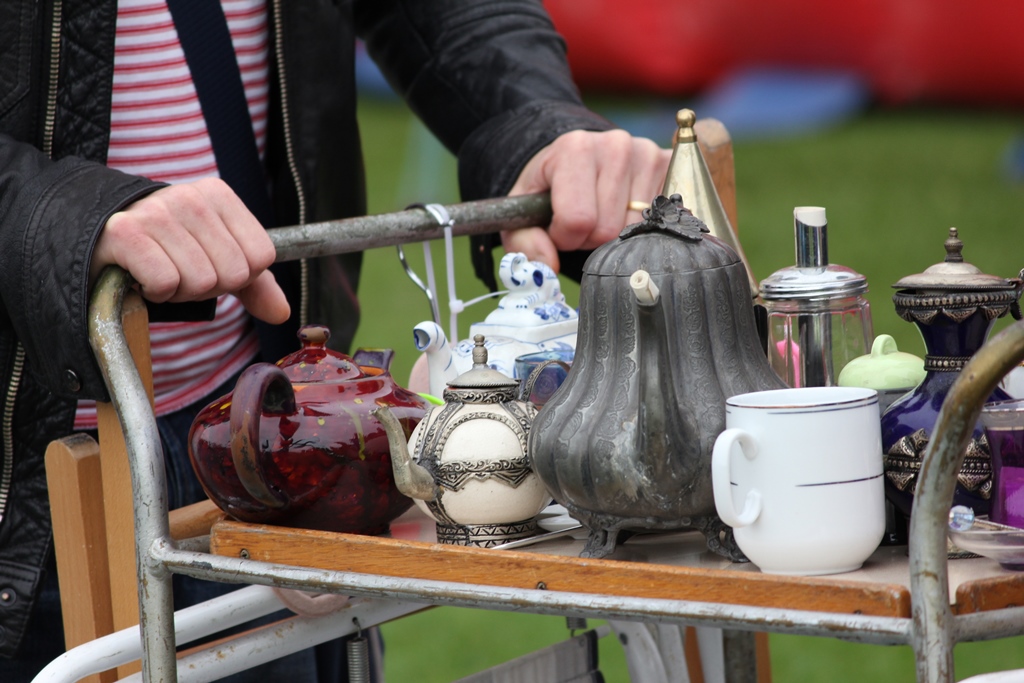 Tea and Tolerance
Tea and Tolerance is a mobile roaming musical place for questions and conversation, a social experiment.
For sharing, listening and bringing people together for tea, in solidari-tea with each other in the common cause and developing calls for peace…
Inspired by the York Mosque that invited the EDL to drink tea and play football in 2013, conversations with fun, with ritual and with peace.
First. Questions. What is tolerance? What can't you tolerate? Is tolerance of each other enough? Where is 'beyond tolerance'? And where to start? where we are comfortable?
The merry band of gentle tea drinkers made their way to the houses of government and said…
Come, sit down and have a conversation.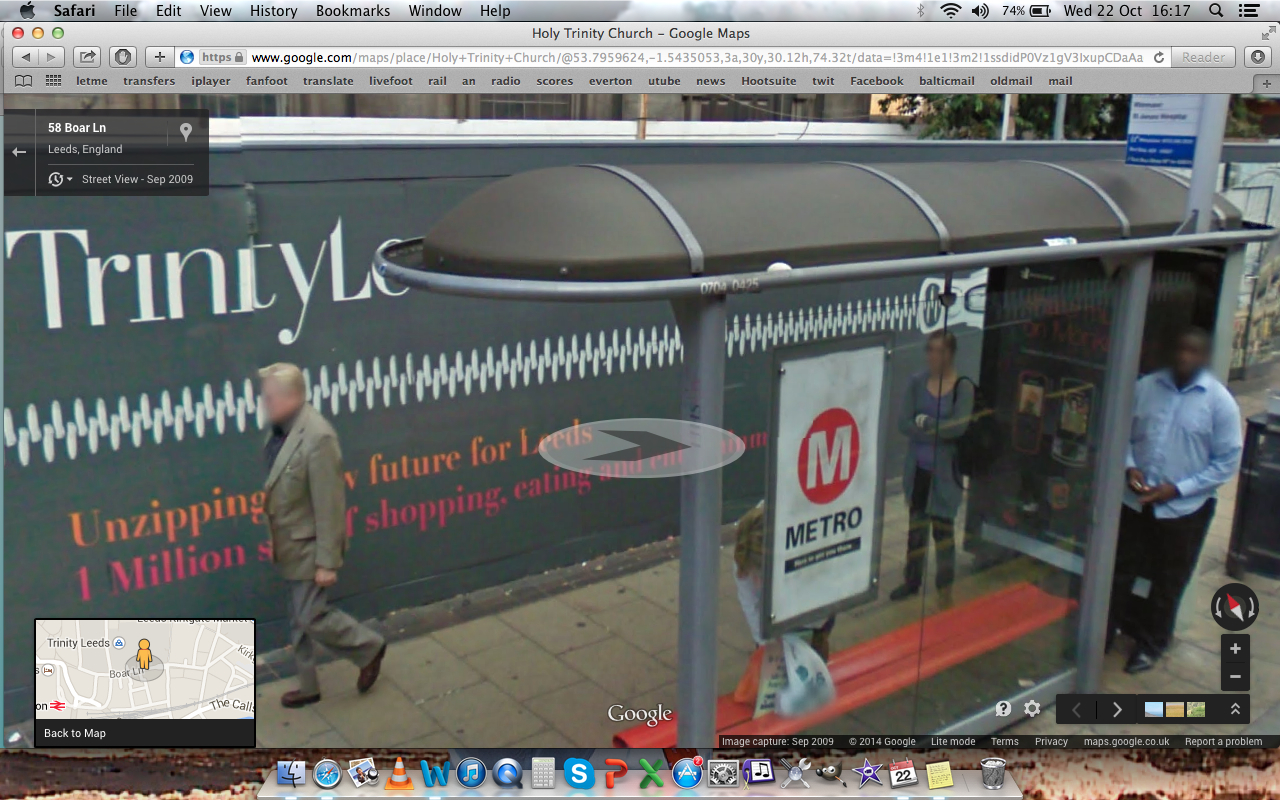 Rowan Grey – Who looks least suspicious?
Who Looks Least Suspicious?
Rowan Grey* is going to commit a crime. The impersonation of a police officer. But this officer will be a little different; this officer will be a plain-clothes one, hiding in plain sight, a simulation of the public.
Spotting police, spies, ticket checkers and other surveillance workers is an increasingly important skill. Join Rowan for some practice! The artist will be in the audience throughout the evening, observing, mimicking and compiling a report on you all to be published on the Compass website the next day.
Think you've spotted the police impersonator? Once you're sure, approach Rowan with your accusation. Who looks least suspicious?
*not the artist's real name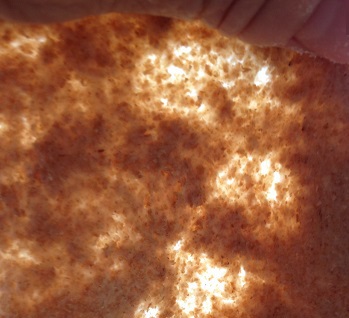 Ben Mills – Companion
I am an artist and performer from Leeds. My artistic practice sits in the broad and slippery area between experimental theatre and live art. What I am trying to say with my work and the way I say it shifts with every new project I make. However recently I have taken a keen interest in community and communication. I have been exploring this theme from a range of perspectives with the use of public interaction.
(Companion) Middle English: from Old French compaignon, literally 'one who breaks bread with another'
In this three hours durational piece I will make 7 loaves of bread on the floor of the church. A sacramental host will be chosen and broken. This piece use's bread and the artisanal process of baking to reframe our view of community and how it has changed.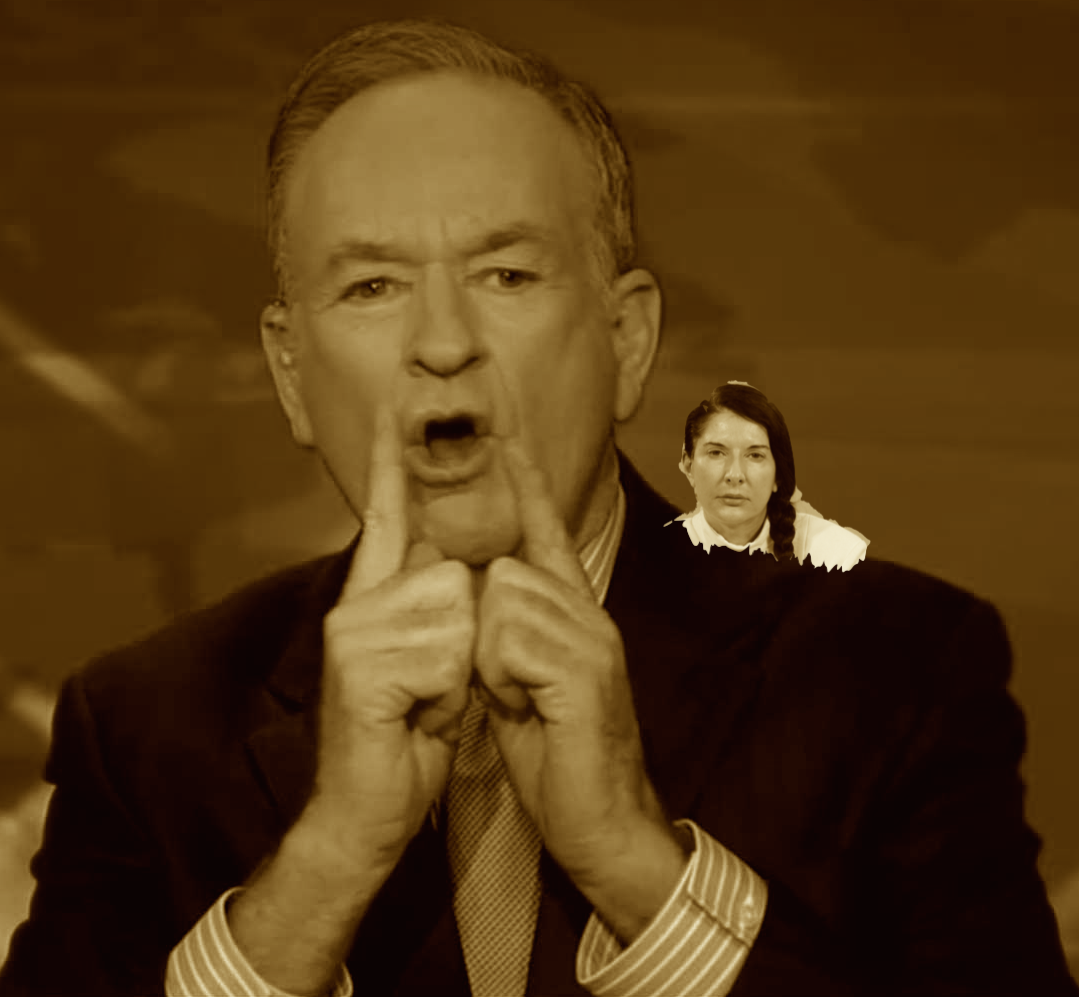 Leeds Beckett MA Performance – An artistic answer to everything that you thought was unsolvable about the world
Eight Leeds-based artists have been trapped in a room together for two weeks and now they're really angry. This is how you turn multiple, disagreeing voices into a solution. It's a manifesto for performance and art in 21st Century – and things feel a little tense.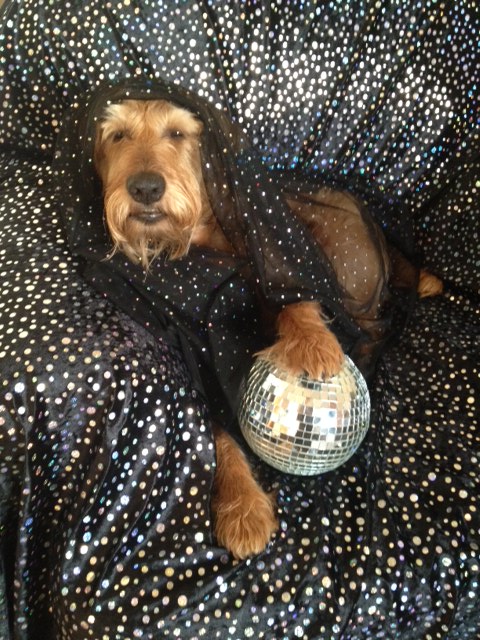 Wunderbar – Un-mystic Martin
Have you ever wanted to know the future? Have you ever known the future of somebody else? Have you ever ran into the kitchen to save your toast because you've envisaged that in the future it will burn? Un-mystic Martin is highly trained in the art of predicting the future and he invites you today to share a moment, share some laughter and most importantly….to share the truth.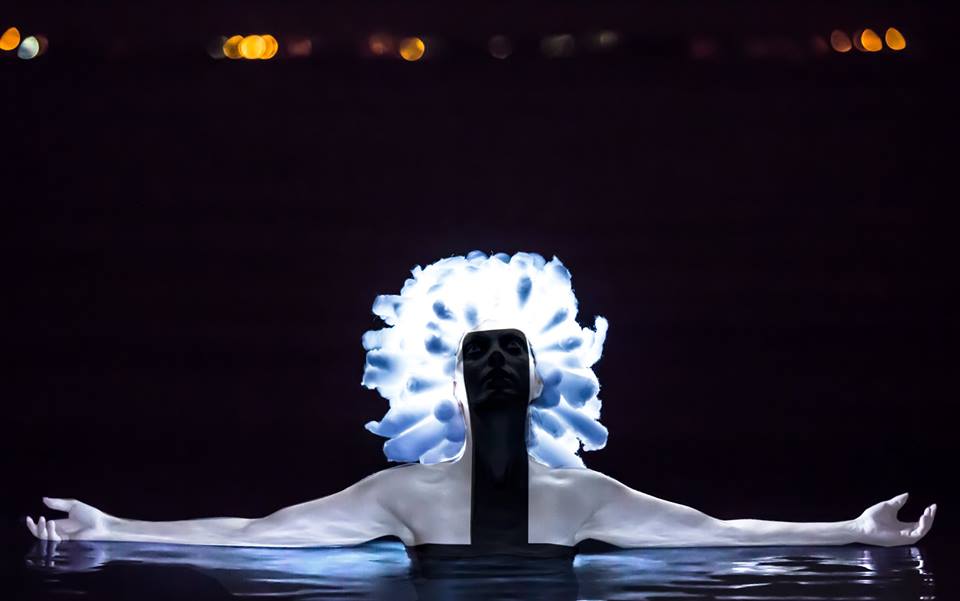 Biljana Bosnjakovic – Untitled
A premier performance by Verona based artist Biljana Bosnjakovic, where the attention is focused on the body as site. This performance is a response to Biljana's immediate environment in Holy Trinity Church, creating sculptural moments that exist in a single splendorful image to awaken the senses.