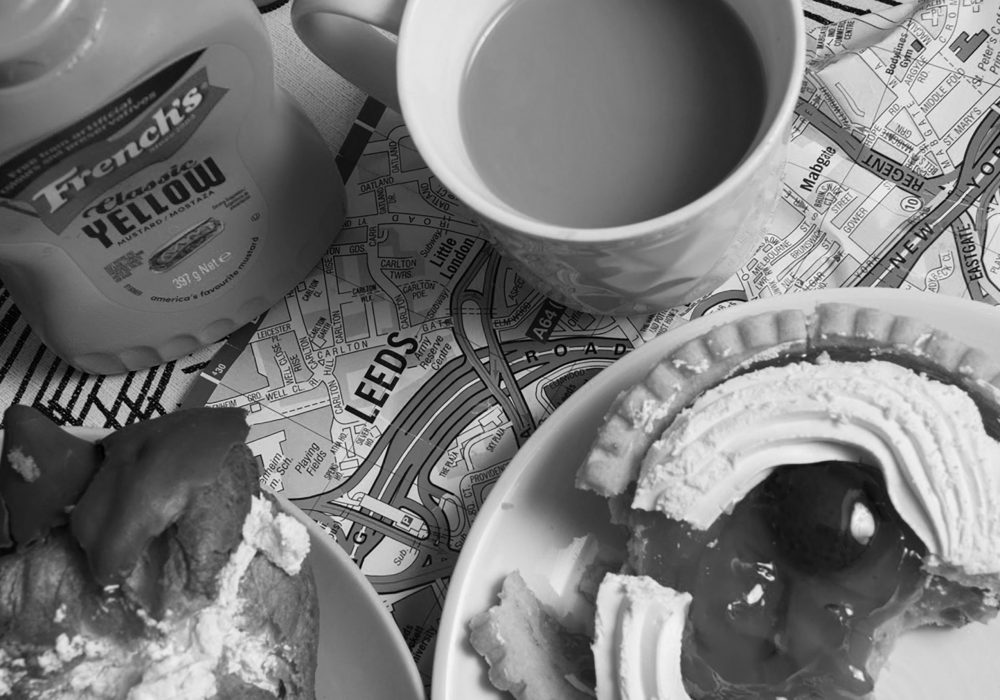 LIVE ART BISTRO
12/11/2016 – 19/11/2016
11am 'til late, daily
Live Art Bistro
Regent Street, LS2 7QA
Live Art Bistro becomes host to a centrally located pop-up cafe, acting as the official hub for the festival. Open from 12pm each day serving brunch, snacks & hot food until 4pm then winding down into the evening to become the festival meeting spot. Compass Cafe is the place to get daily updates and festival information, with the added bonus of friendly faces that are expert city dwellers.
Daily Guest Hosts
As part of the hosting experience, LAB has invited different artists each day to collaborate in running the cafe. This will play out in all manner of ways so keep an eye on the Compass Festival website for details, or just drop in.
Hosted by Live Art Bistro and Food for Thought.
Guest Hosts and Schedule
Saturday 12 Pauline Mayers
Sunday 13 Tea and Tolerance
Monday 14 Exchange Brainstorm
Tuesday 15 Joely Fielding Happy birthday clitoris!
Wedsday 16 Ben Mills Mother Cafe
Thursday 17 Ellie Harrison Cake and Death
The Producer School Producer Gathering 12pm – 2pm
Friday 18 Panic Lab
Saturday 19 Hannah Buckley Accumulations
Pauline Mayers
Pauline Mayers is a movement theatre practitioner based in Yorkshire. Pauline's latest show 'What If I Told You' had its world premiere at the West Yorkshire Playhouse as part of Furnace Festival and will be going on a national tour in 2017.
For Compass Cafe, Pauline invites you to join her, to discuss race and why we find it so difficult to talk about. Pauline will share her research into the history of how people have viewed race in the medical profession, from the 1700's to today in a post-Brexit society.
Feel free to come and go throughout the afternoon as the conversation continues.
https://paulinemayers.wordpress.com
Tea and Tolerance
Hello and Welcome to Tea and Tolerance, a roaming trolley of tea and questions…
Questions of importance or no importance? You decide
Two people inviting others to sit down and consider ….me, you, us, them, what matters, what doesn't matter and everything in between. When you join T&T you can converse, exchange, answer, ask or simply take in the spectacle. They roam and clink with their trolley through festivals, cafes, and streets with friends, with strangers, with neighbours…in solidarity ( solid-ari-tea)
Come, sit down, and have a conversation.
https://teaandtolerance.wordpress.com
Exchange
Melanie Purdie and Anna Turzynski
Exchange is a company based in Leeds, made up of Independent Producers Melanie Purdie and Anna Turzynski who met through the Compass Festival Young Producer Scheme in 2014. Exchange is interested in creating a mechanism to improve access into the arts in Leeds, focussing on making more meaningful connections between early career creatives and the city. Exchange aims to support artists in the early stages of their careers.
Exchange invite you to spend some time with them to reflect on your journey, and to exchange stories, advice and ideas with us. In exchange you can expect a conversation, a weird installation and a snazzy freebie.
@exchange_leeds
Joely Fielding Happy Birthday Clitoris!
Joely is currently based in Leeds where she makes autobiographical performance and is another Compass Young Producer from 2014. Her work is always centered around storytelling but varies in form. In previous works this has looked like: a magic show, a walk, two people on a date, a burlesque dance, a game show, a confessional. Since late 2014, Joely has been developing what she describes as a sex positive practice. For her this means that her practice is committed to sex positive feminism, the research and exploration of sexuality, and the offer of sex positive ideas through artistic output.
Happy birthday clitoris!
Joelly celebrates 1998 – the year in which the clitoris was (finally) officially recognised in all of its anatomically correct glory – thanks to the superstar Dr. Helen O'Connell. There will be edible clit treats, games, and the music of 1998. Joelly would love you to come and help me wish the clitoris a very happy 18th birthday.
http://joelyfielding.wixsite.com/home
Ben Mills Mother Café
Ben Mills is a social engaged experimental performance maker and live artist based in Leeds. His work is located within a performance, live and visual art's context. The work often manifests as physical and durational solo or group task's that enable environments where radical and politicized discourse can emerge.
The mother is an active sourdough culture, which if cared for properly can nurture, care, help to rise and bring to life. 'Mother Café' will investigate our relationships between ourselves, our mothers and bread. And there will be baked treats!
http://thenewbridgeproject.com/portfolio/benjamin-mills/
Ellie Harrison, Cake and Death
Ellie Harrison is a Leeds based artist, currently working on the Grief Series.
Play a game of angry jenga, design your own funeral or just relax and have some cake. Ellie will be on hand with cake, booze and other death based fun from her acclaimed sequence of projects The Grief Series.
www.griefseries.co.uk @ellie_meg @griefseries

The Producer School, Producer Gathering
Producer Gatherings are usually hosted by the fantastic Sally Rose and Xavier de Sousa and have been held throughout the UK over the past two years, with the aim of connecting independent producers, artists and those interested in the practice of producing. These are open gatherings and you can expect informal discussions about: working independently, supporting the work of artists across art-forms, and ways in which we can share experiences and knowledge.
Producer Gatherings were initiated during Sally & Xav's residency at the Live Art Development Agency, and are part of a research project that proposes to connect independent producersand artists, and also venue-based or company producers and those interested in producing.
If you have a particular topic you'd like to be on the agenda please contact admin@theproducerschool.co.uk
Panic Lab
Panic Lab are a London based dance company.
Dressed in their best onsies, the Fox and the Hound want to change the world. Trapped somewhere between deep existential questions and a desire to entertain, these two unlikely friends welcome you into the Compass Cafe asking the question: What does it mean to be an adult in the new millennium?
Hannah Buckley with Accumulations
Accumulations is a collective of four artists working primarily in movement, dance and performance, who have been collaborating since the summer of 2015. They arrived in each other's company through a variety of routes. Each has their own practices and aesthetic influences, but are drawn together through a shared interest in post-modern dance and performance, conceptual art, authentic movement, the use of scores and instructions in the creation of art, integration of costumes and props, and in creating a fluid performance space that collapses the typical audience/performer divide
They will be turning the Compass Cafe in to a public research lab for their upcoming, British Council funded project. The project will connect Accumulations with South African curator Nkule Mabaso, the Michaelis Galleries (Cape Town) and local artists, under the framework of 'Looking After Freedom'.