Photos: Lizzie Coombes, Simon Persighetti - Graphic: Tim Jukes
Etheridge & Persighetti (Small Acts)
Public House: The Yorkshire Square is a 12ft x 12ft pop-up pub bringing a ferment of connections, conversations and experiences, to the heart of Leeds iconic Kirkgate Market.
Modelled on the dimensions of the unique fermenting vessel made famous by Tetley's Brewery, The Yorkshire Square has been reimagined by artists Katie Etheridge & Simon Persighetti as a four-sided Pop-up-Pub serving brews and views from across Leeds.
Prolonged closures during the pandemic of the UK's already endangered pubs, have thrown into sharp focus the fragility and the importance of the Public House.  
From mediated social hub to traditional tavern, The Yorkshire Square invites you to explore the idea that the pub of the future has many faces. 
Pick from a menu of tap talks and heritage tours from guest presenters, help create tomorrow's heritage by adding your opinions and views to the brew, or simply pop in for a pint.
Since 2017 Katie Etheridge and Simon Persighetti (Small Acts) have been working with Leeds brewers, publicans, campaigners and individuals to explore the future of social landscapes by investigating the enduring role of Pubs as places of community, intergenerational exchange, entertainment, (hi)story telling and activism.
What's On
Cold beer, a warm welcome and an amazing programme of free live events across 9 days, here is a taster of what to expect from each of the four faces of The Yorkshire Square:
Tap into history at the Time Bar. Watch and listen to specially recorded interviews on pubs past, present and future. Then add your own views to the brew with our interactive Pub Quiz machine!
Enjoy a pint at The Duchess, winner of our 'Lost Pubs' competition. This homage to the spirit of former pub and iconic music venue The Duchess of York, explores how pub closures impact on culture and community.
Continue the conversation at the Chameleon Bar, serving a range of local hand-crafted ales and craft beer, and hosting daily talks by pub campaigners, brewers activists and heritage researchers.
The Third Space is the project info hub, and the place to listen to voices from across Leeds reflecting on the cities varied social and community spaces and what they mean to individuals.
Thursday 15 July: 11am – 5pm 
Friday 16 July: 11am – 10pm
Saturday 17 July: 11am – 5pm  
Monday 19 July: 11am – 5pm
Tuesday 20 July: 11am – 5pm
Wednesday 21 July: 11am – 5pm
Thursday 22 July: 11am – 5pm
Friday 23 July: 11am – 10pm
Saturday 24 July: 11am – 5pm
Do I need to book?
You can visit at any time during opening hours without booking. 
If you would like to book a table, just us with how many people (up to 6) and what time you're coming to: polly@compassliveart.org.uk
All events are free. Booking is strongly advised for Tours which have limited places. Booking is encouraged for Talks, although some walk ups will be available.
Any other questions? Head to our FAQ page. 
As well as being able to pop in to The Yorkshire Square for a pint, there are also a range of tap talks and tours available.
Have a look at the programme of live events from our amazing guest presenters and speakers. 
All tickets are FREE. Book now.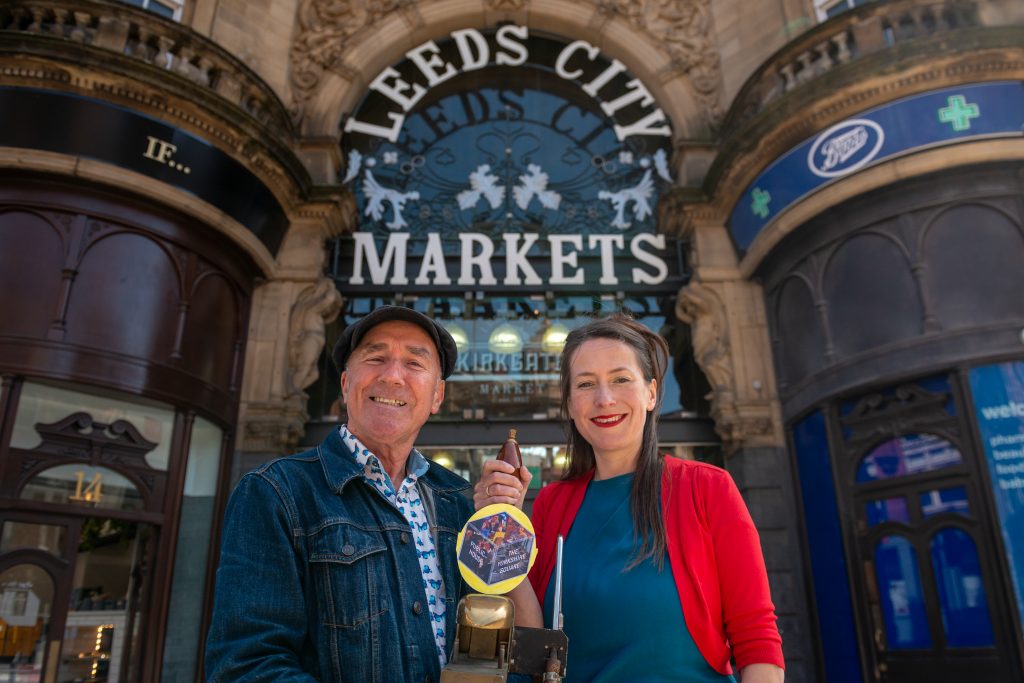 Public House: The Yorkshire Square by Etheridge & Persighetti (Small Acts). Commissioned and produced by Compass Festival. Made possible by the The National Lottery Heritage Fund with support from Leeds Civic Trust. Many thanks to Leeds Kirkgate Market and Nomadic Beers.