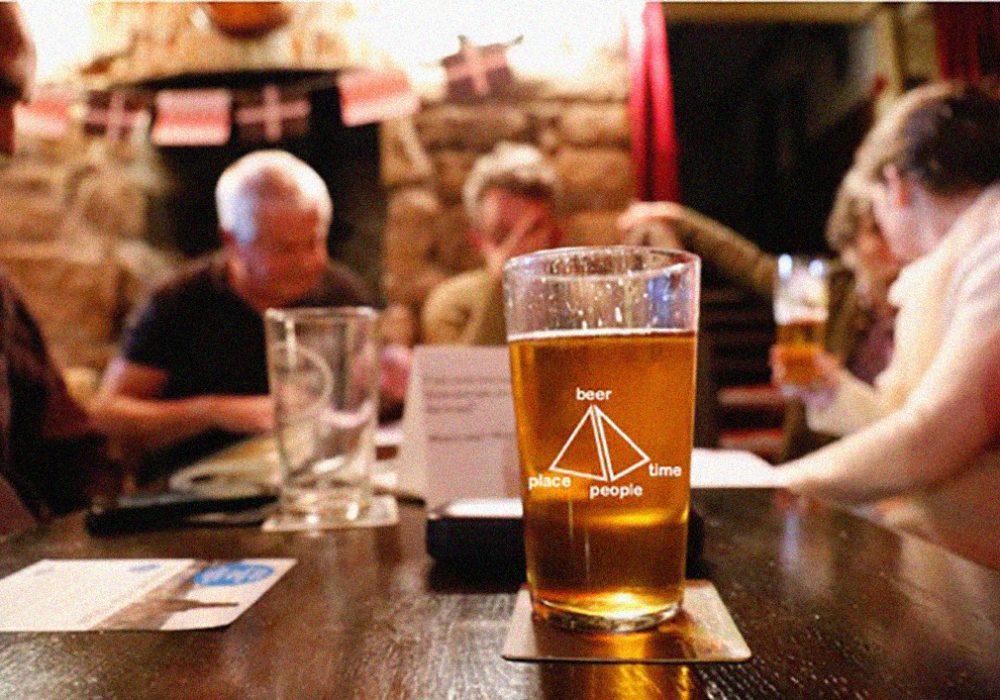 Etheridge & Persighetti
16/11/2018 – 25/11/2018
daily Launch event: Fri 16 Nov, 7pm Beer Glasses available throughout the festival, along Kirkgate
Crowd of Favours
Harper St, LS2 7EA
Through the beer glass lens of the Public House, Etheridge & Persighetti explore visions of future social landscapes by focusing on the enduring role of pubs as important places of social gathering, intergenerational exchange, entertainment, (hi)story telling, and activism.
Public House is supported by Leeds Civic Trust and Leeds Brewery.
Pint glasses

During Compass Festival, a special edition of 500 beer glasses bearing diagrams, maps, conversational fragments, and invitations to explore the rich landscape of Leeds pubs, will be distributed to a selection of pubs and bars along Kirkgate. Use #PublicHouse18 to share your thoughts and conversations!
You'll find Public House pint glasses at:
Crowd of Favours, Doghouse, Duck and Drake, The Lamb & Flag, The Maven, Outlaws Yacht Club, The Palace, The Regent, Slocken, Wapentake and Wharf Chambers.
You can also view the glasses in the window display at Leeds Civic Trust, 17-19 Wharf St, Leeds LS2 7EQ
Thank you for those who joined us at the launch event on Friday 16 November, 7pm at Crowd of Favours

In a participatory launch performance the artists initiated a series of live conversations inspired by the inscriptions on the glasses, bringing to the table special guests with a range of interests in the relationships between people, place and beer in Leeds. Local experts included:
Brewing up Community with Katie Marriott, Nomadic Beers and Martin Lockett, Landlord

Historic and Social Role of Pubs with Jim Brettell, Leeds Civic Trust

People, Place, Time and Beer with Richard Coldwell, BeerLeeds.co.uk

Future Survival of Pubs with Greg Mulholland, Chair, British Pub Confederation
+ conversations were joined by members of Leeds Civic Trust and Leeds CAMRA.
Public House from Compass Festival on Vimeo.
Read more about the inspirations behind the project on Beer Leeds.