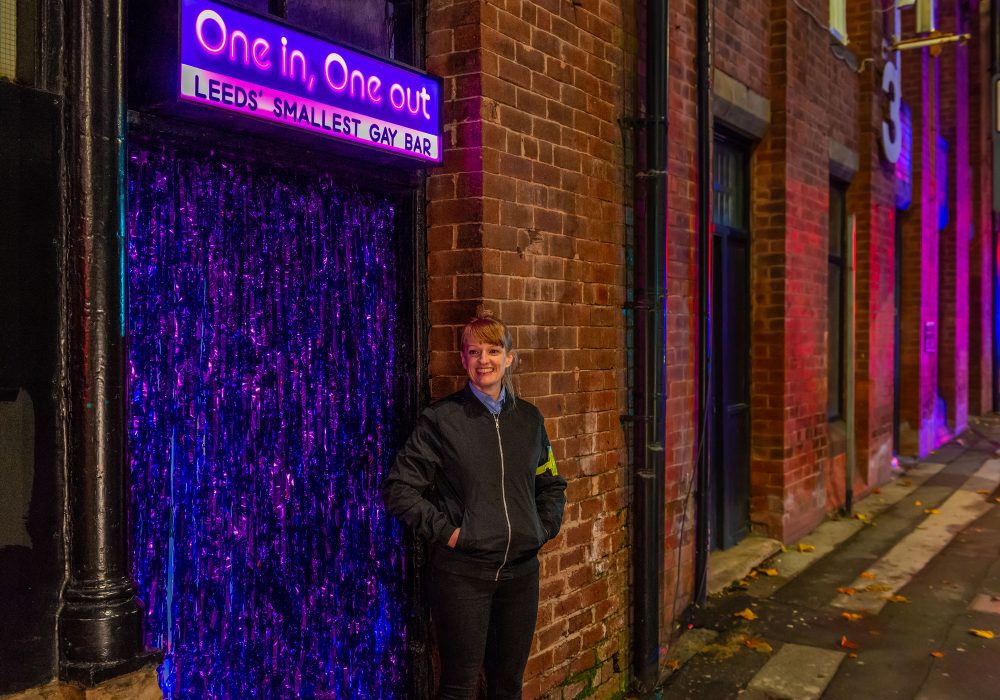 One in, One Out: Leeds' Smallest Gay Bar (Photo: Lizzie Coombes)
Lucy Hayhoe
A playful installation for an audience of one.
One in, One out: Leeds' Smallest Gay Bar is an exclusive club featuring all the camp, glitz, glamour and dodgy disco lighting you could wish for – but this time it's all for you. 
Created by artist Lucy Hayhoe, One in, One out explores the role of the gay bar in contemporary queer culture and asks us what we want to preserve and what we want to change.
There's a welcome familiarity to be found in the bright lights and sticky floors of the gay bar; spaces which were often created as a rejection of queer isolation. But as the needs of the queer community change, and we grow more aware of intersecting identities – is the gay bar part of the future of queer space?
Designed for one audience member at a time, the installation offers a five minute nightout, complete with a spinning disco ball. A bouncer takes your coat, offers you a drink, and welcomes you into the tiny, shiny space.
"With queer spaces shrinking at a dramatic rate, artist Lucy Hayhoe's installation invites you on a night out for one and asks: what makes a place gay?"
Occupying a unique position in cities, the coronavirus pandemic presented huge threats to the existence of queer spaces. One in, One Out examines nostalgia for lost LGBTQIA+ scenes, the consumption of queer space as novelty and what it means to be queer and alone.
Taking on a new significance after a year of isolation, the piece was a celebration of the queer spaces many had been separated from, signalling a safe return to nightlife. 
One in, One out: Leeds' Smallest Gay Bar ran from 28 – 30 May outside Leeds Civic Trust and Wharf Chambers. The piece was brought back as part of Leeds Pride Village Fete and will be touring around the UK in 2022.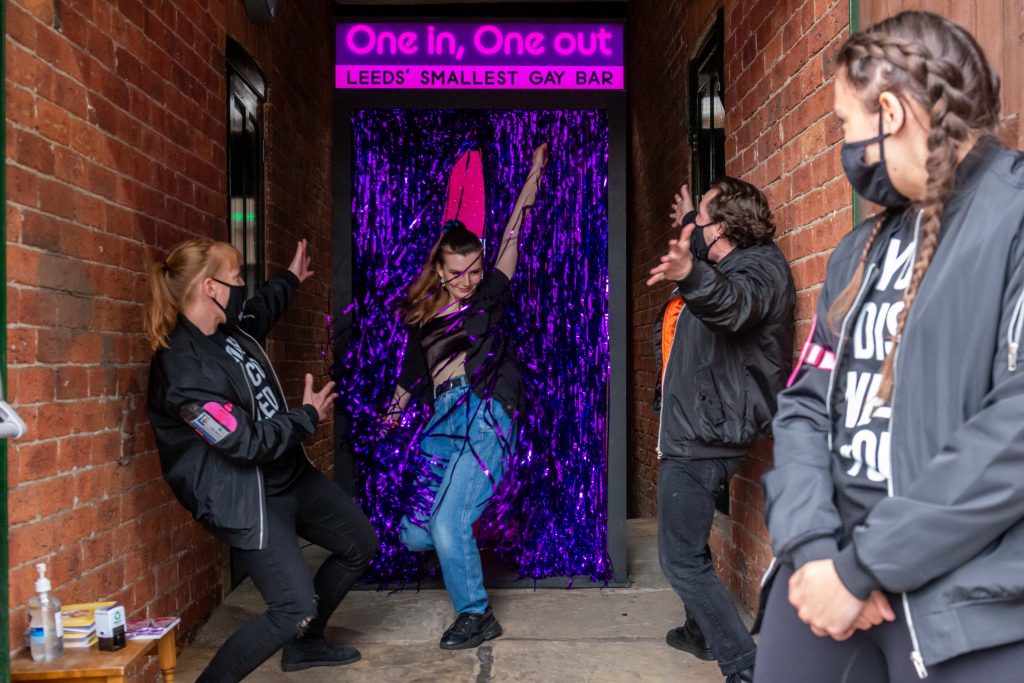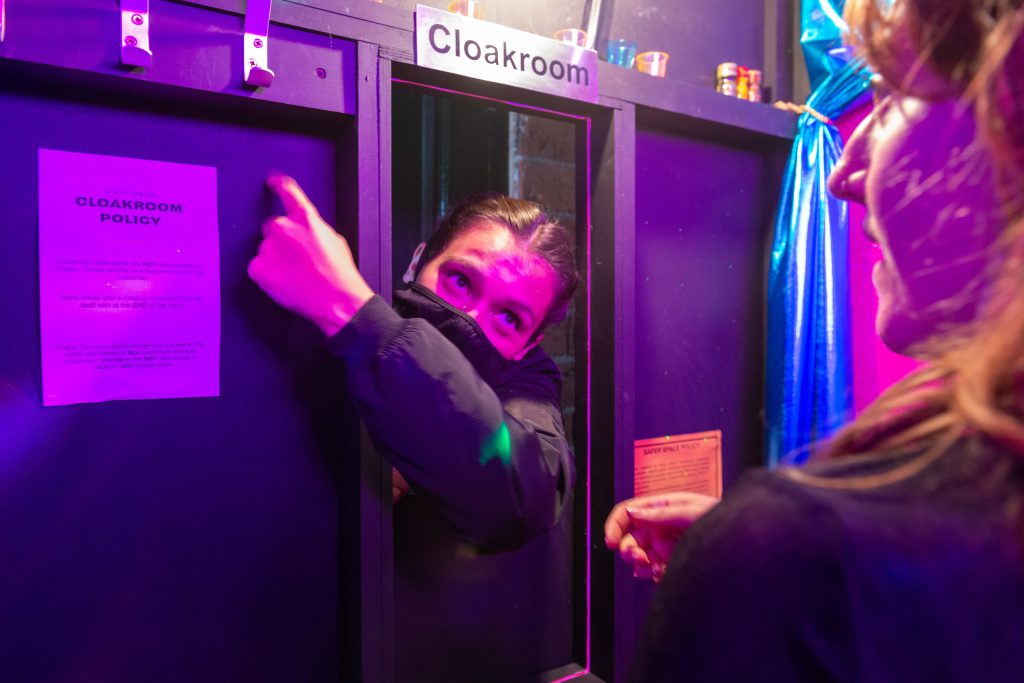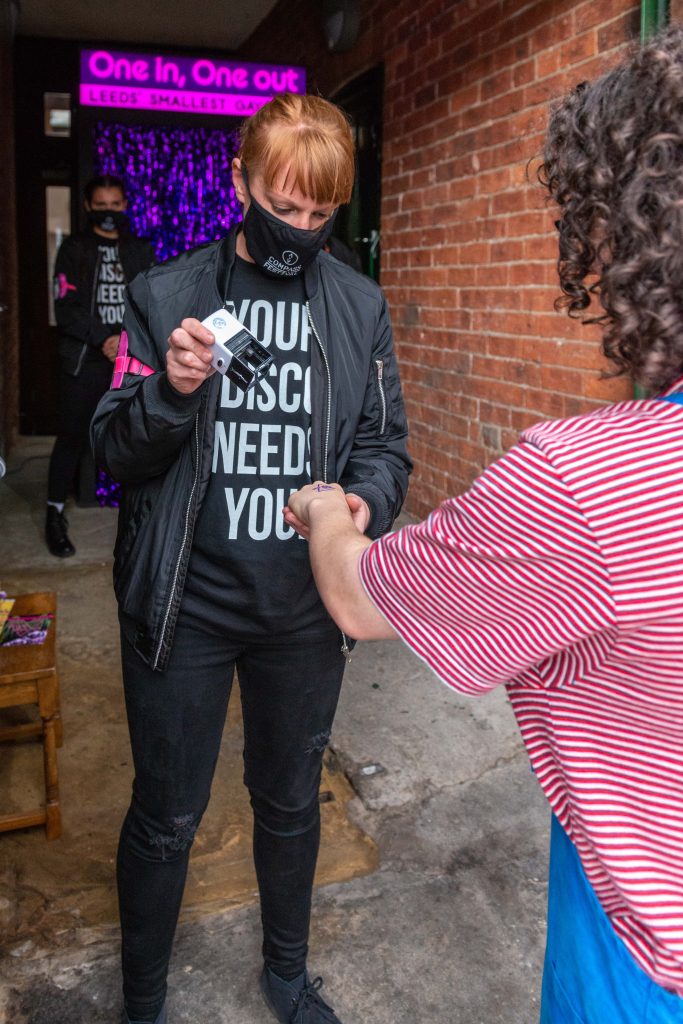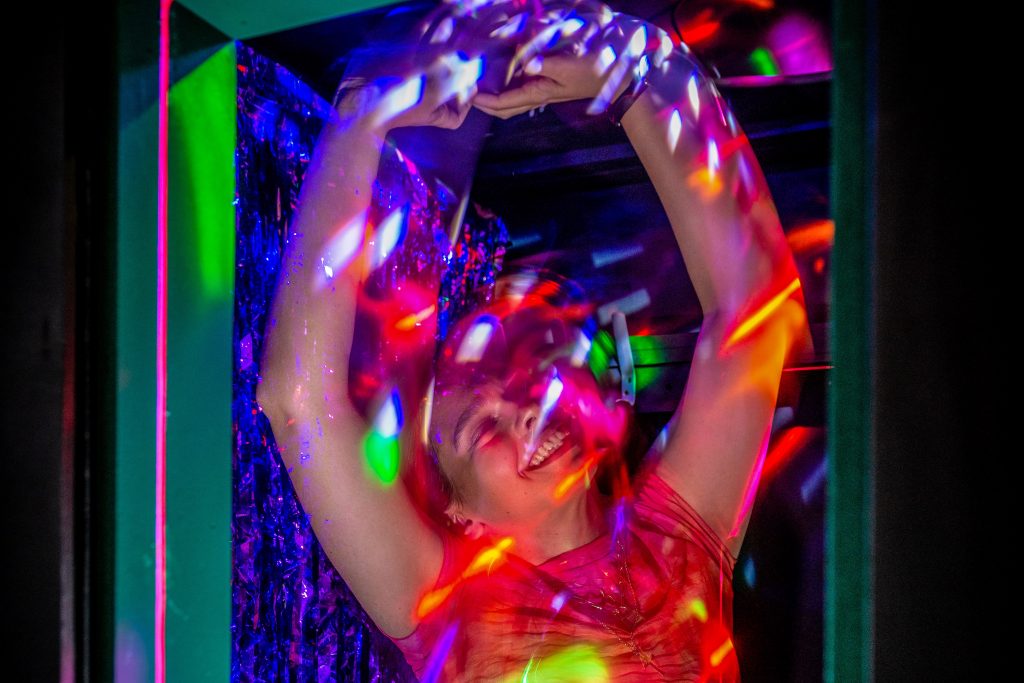 Originally commissioned by Compass Live Art for Compass Festival 2021, made possible by Wades Charity, Wharf Chambers and Leeds Inspired. Developed with support from Broccoli and Arts Council England Lottery funding.