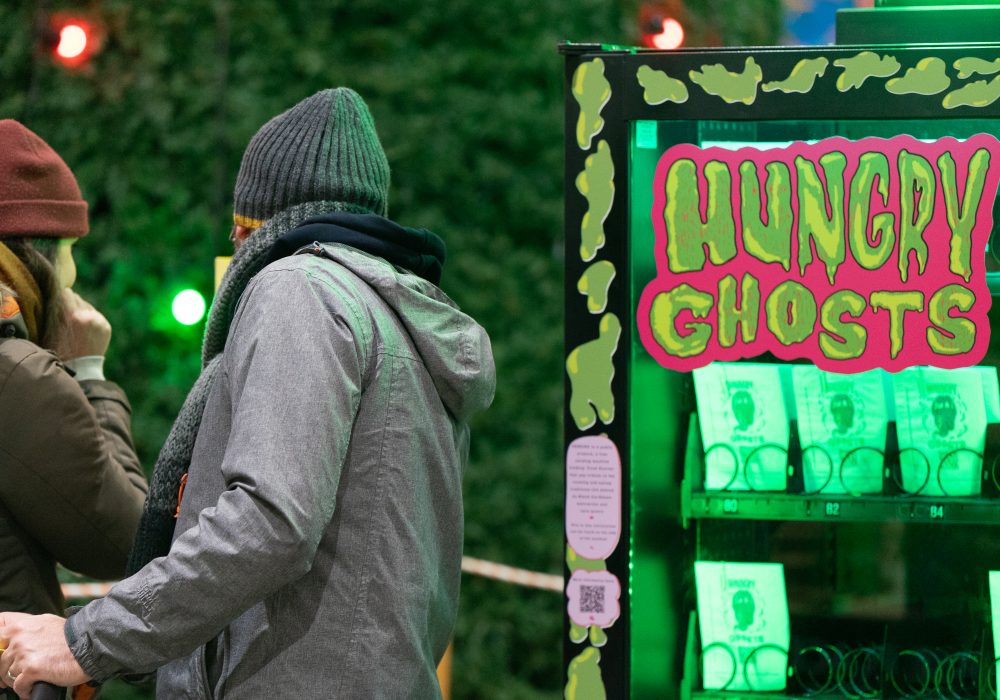 Amy Lawrence & Collaborators
Saturday 19th Nov - Saturday 26th Nov (excluding Sundays)
10am - 4pm Daily
Kirkgate Market Food Hall
HUNGRY GHOSTS is a collaborative storytelling and eating project featuring a series of public installations, sensorial events and workshops.
Created around different kinds of gatherings, HUNGRY GHOSTS paid tribute to traces left behind from cooking and eating with Black Caribbean Grandmothers and ancestors. Through re-invention and re-collection of home cooked recipes, HUNGRY GHOSTS explores how rituals around food serve as an alternative form of storytelling, shaping our identities and ancestral experiences.
The project had three parts which took place during the festival;
• VENDING; A vending machine housing experimental matriarchal food stories written by Leeds based artists.
• Festival of Festival; A celebration of the humble sweet 'festival' dumpling.
• Black Eating Club; An intimate supper club, of part workshop, part dining club.
Credits
Concept, Direction, Producer – Amy Lawrence
Publication and Vending machine design & Collaborative Designer – Isabel Barfod 
Collaborative Storytellers – Leah Francis,  Alexah Tomey-Alleyne and Sharon Watson
Black Eating Club Collaborative Chef – Dionne Edwards / Nubian Noire and Jhanelle 
Black Eating Club Collaborative Ceramicist – Sandra Whyles
Black Eating Club Performer – Musufing Whyles
Documentation – Sophie Okonkwo
Compass Producers – Alice Withers, Elle Money
HUNGRY GHOSTS Producer – Zoë Charlery 
Producing Advisory – Claricia Parinussa & ID.Y CIC
Production – Matt Sykes-Hooban + Tom Woodland
Communications and Engagement – Lydia Cotrell
PR – SM Publicity
With thanks to Leeds Kirkgate Market + all the vendors,  FINT,  Yorkshire Dance, Union 105,  Jenny's Jerk Chicken,West Yorkshire Vending Solutions, Emily Zobel Marshall, Cheryl Martin, Edwina McEachran, Juliet Davis, Quarantine Theater, Good Press (Glasgow), Dock Street Signs,  my friends +  family  and all those who supported the research phase of the project in 2021.
The 'HUNGRY GHOSTS' title is in part inspired by the article ' Technologies of the Hungry Ghosts and Underworld Gods' in 'Performance research 26-1/2:ON HELL: written by Alvin Eng Hui Lim.