Leeds Sauce returns this March as part of the programme for Leeds 2023. Join us at the LEEDS 2023 Unit in Trinity Leeds Shopping Centre from the 16th – 19th of March.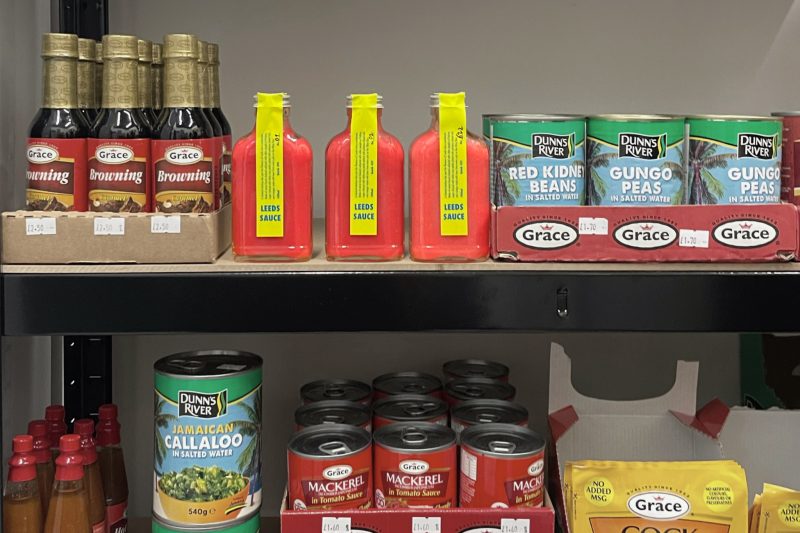 Leeds Sauce
Dates: 16th – 19th March 2023
Times: 11am – 6pm Daily 
Location: Unit 105, Trinity Leeds Shopping Centre, 27 Albion St, Leeds LS1 5AT
Directions: From the Apple store head up the escalator next to the Lindt shop and the unit will be on your right with the LEEDS 2023 branding on the front.
About Leeds Sauce 
Leeds Sauce is a rhubarb ketchup with ingredients that attempt to put the flavors of Leeds into a condiment. Over the past two years Popeye Collective have worked with different communities across Leeds to gather ingredients. 
The recipe is made up of intercepted forced rhubarb collected with Bramley Elderly Action in Pudsey, sugar infused with white rose petals picked with primary school kids in Headingley and vinegar made with beer from every pub on the Otley Run. It is infused with ginger inspired by an archeological dig on the side of the Tetley's Brewery and the salt has been collected door to door from communities around the city. 
We've worked with local food experts, chefs and farmers to help refine the recipe. You are now invited to visit the Leeds Sauce pop-up processing plant at Trinity Leeds where you can witness the journey, the people and the places that informed the development of the recipe. 
Come and join us to be a part of the tasting panel, help us to develop the final flavors of the sauce and fill up your own bottle to take home. 
Learn about the process: 
Leeds Sauce was originally commissioned by Compass Live Art with support from Leeds 2023.