Compass Festival returned for its 6th festival in November 2022. In our first full festival since the pandemic, Compass delivered an ambitious programme featuring 4 original artist commissions, all born from artist residencies that took place during 2021.
The first festival of this kind, featuring artists who developed projects with much deeper connections with communities in Leeds, presenting interventions which were festivals within a festival – individual event programmes which allowed artists to deliver different types of engagement emerging from different aspects of their multi-layered projects.
We invited audiences to share their best piece of advice, take a journey on an afro futurist spaceship, delve into a surreal soundscape in a familiar place, eat their way through Caribbean ancestry and help us answer the question: 'What are the flavours of Leeds?'. 
Compass Festival 2022 took place over 10 days in Leeds Kirkgate Market, St Johns Centre and a host of supermarkets across the city. For the festival we collaborated with Food Development experts,Elderly people from Bramley, Black and Caribbean communities, Tarot readers, Debt consultants and many more.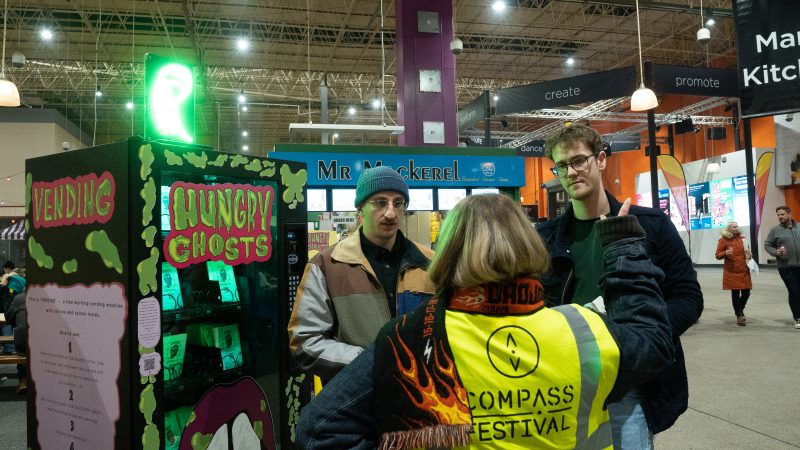 2022's jam-packed festival programme included several projects which were open access, taking place throughout the festival. Such as Silvia Mercuriali's 'Wondermart', in it's first UK showing in 10 years, reflecting on a renewed appreciation for supermarkets and their significance since the pandemic.
Amy Lawrence's Hungry Ghosts VENDING machine intrigued lunchers at Kirkgate Market with familiar food stories from theBlack / Caribbean community. Empathy Museum took residence in St Johns Centre with Citizens Advise, with a rolling programme of resident advisors.
Beyond this, Popeye Collective took to the kitchen to cook up 800 bottles of Leeds first 'Leeds Sauce' made with ingredients collected by residents and Toni Lewis' Satellite landed in the city, with unique 1-2-1 workshops 'Hairlooms' honouring passed loved ones with intimate participatory hairwork workshops.
"The team that did the project were so genuinely engaged and involved in it. You can see their passion for it. They were genuinely nice people, who took the time to really talk and connect with people. I loved their stories about the journey, such a unique and community affirming project."
"It was so comforting to read the written tributes to black Caribbean ancestors. It was lovely to read the stories and poems whilst eating with a loved one"
"Citizens Advise brought a sense of belonging and community."
"Really interesting experience - never done anything like it before! Made me feel a bit strange and uncomfortable but in a good way."
Learn more about the events below: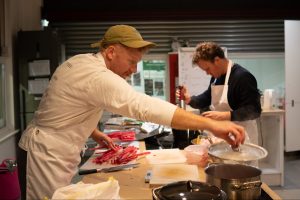 Popeye Collective took over the kitchen at Ministry of Food in Kirkgate Market to combine all of their collected ingredients to make the first ever batch of Leeds Sauce.
Learn More »